Congratulations to Willi Goetschel, who just published a new book on Canonization and Alterity coedited with Gilad Sharvit.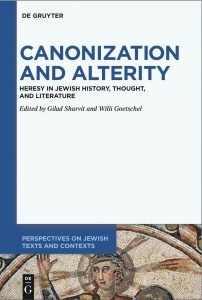 This volume explores the way various aspects of heresy – as difference, variation, and deviation – have come to function in Jewish history and tradition. The main argument of this volume is that heresy not only distinguishes, demarcates, and separates groups, but creates a social, political and religious dynamics that has proved to sustain rather than disrupt tradition. The contributions collected here examine various aspects of canonization and its discontents as a result of a rich, complex, and often conflicted process in which alterity plays a formative role. Exploring this phenomenon in various historical, cultural, social, and political contexts, the authors of this volume offer studies of a rich panoply of creative responses to the challenge that the interplay of canonization and alterity poses in Jewish tradition, its history, thought, and literature.
Contributions explore the formative role of the figure of the heretic and of heretic thought in the development of the Jewish traditions from antiquity to the 20th century. Chapters explore the role of heresy in the Hellenic period and Rabbinic literature, the significance of heresy to Kabbalah, and the critical and often formative importance the challenge of heresy plays for modern thinkers such as Spinoza, Freud, and Derrida, and literary figures such as Kafka, Tchernikhovsky, and I.B. Singer.