A panel of alumni will discuss their U of T education, the value of an Arts & Science degree, and their pursuit of successful careers. There will be time to network with fellow students, alumni, faculty, and staff after the panel discussion and Q&A session. Complimentary snacks and beverages will be provided.
WEDNESDAY, OCTOBER 15, 2014
6:00 PM – 8:00 PM
JH 100, Jackman Humanities Building, 170 St. George Street
ALUMNI SPEAKERS:
Zita Astravas, Press Secretary to Ontario Premier Kathleen Wynne
Marco Falco, Lawyer, Torkin Manes LLP
Aisha Jamal, Assistant Professor & Filmmaker
Deepa Kanal, Policy Analyst, Ontario Public Service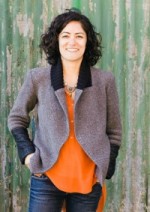 Speaker Aisha Jamal graduated from UBC with a double major in German Studies and International Relations. She received her PhD from the University of Toronto's Department of German Literature and Languages. Her dissertation focuses on films made in Germany by filmmakers with an immigrant background, exploring issues of belonging, ethnic identity and nationhood. During her studies, she also produced and directed her first documentary entitled "Dolls and Bombs," which premiered at the Montreal World Film Festival. For the last four years, she has been holding the position of Assistant Professor of German in the Modern Languages and Literatures Department of Trent University in Peterborough, Ontario, as well as teaching Media Arts at Sheridan College in Oakville, Ontario. She continues to work both in academia and the arts, producing and directing films.
Participation in the b2B program could be listed on your Co-Curricular Record (CCR).
REGISTER ONLINE: http://www.alumni.artsci.utoronto.ca/career-panel/
Join the "Backpack to Briefcase" group on LinkedIn and start connecting today with fellow students, alumni, faculty and staff.
Download poster here.