In Search of German
John Noyes, Professor of German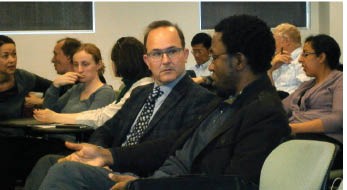 The 5th Annual German Studies Symposium took place on April 12 and 13, 2012. Organized by Professor John Noyes, it bore the title "Where is German? The Global Imagination and the Location of Culture." Ten speakers from Canada, the US, and Switzerland presented papers, with a keynote offered by Alexander Honold from the University of Basel. The event opened with introductions by the Chair of German, John Zilcosky, the Dean of Arts and Sciences, Meric Gertler, and the German Consul General, Sabine Sparwasser. Among an audience of about 50 people, debate was lively, and the exchange of ideas productive for all.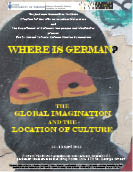 Contributing to the overwhelming success of this meeting was the active participation of graduate students. Yasmin Aly, Vasuki Shanmuganathan, Andrew Warren and John Koster acted as moderators for the sessions and guided discussion skillfully. As event organizer, Stefana Gargova ensured the entire symposium ran smoothly and, together with Lara Pehar and Yasmin Aly, also organized a reception at the home of John Zilcosky.
The intention of the symposium was to examine tensions between the geographical location of culture and its dislocation under globalization. This question arose out of Noyes' current research on globalization in 18th century German literature and philosophy. Speakers looked closely at the function of literature and film as representations of cultural location and dislocation, but also as experiments for imagining location and dislocation, and in the process, revisited the idea of cultural translations, the problem of the European periphery, the concept of the ecosystem in global culture, and the place of critical theory in the location of culture.
The Symposium was made possible through generous financial support from the Dean's Office and through conference grants from the Social Sciences and Humanities Research Council (SSHRC), the German Academic Exchange Service (DAAD) and the Joint Initiative in German and European Studies (JIGES). It was also a featured conference in the Jackman Humanities Institutes 2011-12 Program for the Arts, under the heading "Location/Dislocation."