A Thriving Program Amidst Dwindling Resources
Christine Lehleiter, Undergraduate Coordinator Assistant Professor of German
In recent years, our undergraduate program has undergone considerable redefinition and witnessed substantial gains. Special thanks go to Erol Boran, who coordinated the program for five years. As the new Undergraduate Coordinator, I am grateful for the groundwork laid and am excited to continue it. This Fall we experienced record enrolments, with 270 students enrolled just for our introductory language course German 100. Sadly, many more names hovered on waitlists for courses already filled to capacity. We were very lucky to receive approval from the Dean's office to open an additional section, but we could easily have opened another two had funds been available. It is encouraging, nonetheless, to witness evidence of such sustained and strong interest in Germany - in its language, its cultural heritage, and its contemporary role in sustaining the European Union.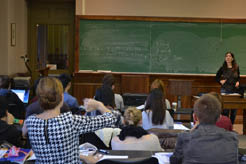 An important factor in the quality of our program is the dedication and talent displayed by our teaching staff. We pay close attention to pedagogical training and strive to keep teaching methods up to date. In addition to the language pedagogy seminar taught by Professor Mike Hager, we regularly offer workshops in which faculty and students present best practices for teaching language, literature, and culture. This year, we look forward to several workshops organized by language coordinator, Martina Kumanatasan, and three organized by graduate student Yasmin Aly in cooperation with the Goethe Institut Toronto. A significant portion of language teaching is delivered by our graduate students, revealing the intrinsic link in our unit between research and teaching, and between graduate and undergraduate training.

Joining our ranks this year is Maren Lorenz, the new DAAD professor at the University of Toronto. With past teaching experience at the Universities of Hamburg, Vienna, and Basel, she will deliver a truly comprehensive picture of the culture of German speaking countries. Her course next Spring traces changing definitions of the family from the Weimar Republic to the twenty-first century. Her description sounds so exciting I'd like to enrol in it myself — but I'd have to put myself on the waitlist first.
Our course evaluations place us in the top ranks among university faculty.
Backpack to Briefcase (b2b)

Monday, November 19, 17:30 – 19:00
Charbonnel Lounge, Elmsley Hall
St. Michael's College

Let us know if you are coming
mlang@chass.utoronto.ca

When our undergraduates finish their degrees in German Studies, they disperse in pursuit of many different career paths, but their German training generally bears some influence, as exemplified by Maria Grgic, who is pursuing a career in the confectionary arts and this summer studied European chocolate and pastry making in Luzern, Switzerland. To learn more about her journey, read her report in this newsletter. Connecting undergraduates with alumni to show them where their degree in German Studies can take them will be the focus of our upcoming "Backpack to Briefcase" event co-organized with other Modern Languages & Literatures departments and the Dean's office. We invite you to join in this discussion and look forward to seeing many of you at this event!