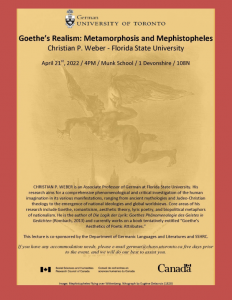 The Department would like to invite you to an in person lecture by Professor Christian Weber (Florida State University) entitled "Goethe's Poetic Realism: Metamorphosis and Mephistopheles" on Thursday, April 21st, 4-6 PM, Munk School, 1 Devonshire Place, Room 108N (see below for abstract and short bio, poster attached).
We are very much looking forward to seeing you at the event!
Christine Lehleiter
Associate Professor of German
Department of Germanic Languages and Literatures University of Toronto
Abstract: In societies, the real becomes an issue either as a symptom of crisis when a catastrophic revolutionary event disrupts the normalcy of reality or at a period of stagnation when social norms and cultural forms have become so rigid that humans strive to break through the symbolic order in order to experience life again with physical intensity and emotional intimacy. In response to the Christian orthodoxy and rationalist ideology of his youth and to the scientific and political revolutions later in his life, Goethe's quest for the real turned to nature and to his own poetic talents. This presentation will characterize Goethe's distinct notion of poetic realism not as a literary concept but as both a method of constructive inquiry and a method of deconstructive criticism. These diverging methods call for different techniques of (re)presentation: Regarding the former, Goethe employs rhetoric and poetic devices of evidence in the poem "Die Metamorphose der Pflanzen," whereas the latter finds a prime example in the hypotyposis of the figure Mephistopheles as the metamorphic driving force of destruction in Faust.
CHRISTIAN P. WEBER is an Associate Professor of German at Florida State University. His research aims for a comprehensive phenomenological and critical investigation of the human imagination in its various manifestations, ranging from ancient mythologies and Judeo-Christian theology to the emergence of national ideologies and global worldviews. Core areas of his research include Goethe, romanticism, aesthetic theory, lyric poetry, and biopolitical metaphors of nationalism. He is the author of Die Logik der Lyrik: Goethes Phänomenologie des Geistes in Gedichten (Rombach, 2013) and currently works on a book tentatively entitled "Goethe's Aesthetics of Poetic Attributes."