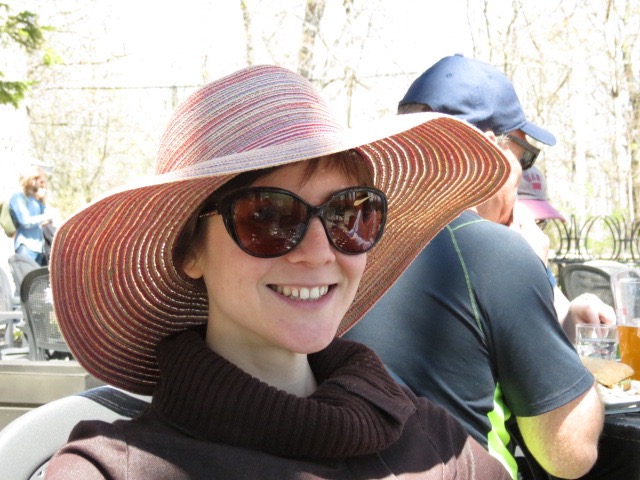 Background
B.A. English and Great Ideas (Double Honours), St. Thomas University, New Brunswick, 2008
M.A. Medieval Studies, University of Leeds, UK, 2009
M.A. German Studies, Dalhousie University, Nova Scotia, 2011
Ph.D. University of Toronto, 2016
Research
My current research focuses on the writings of Hugo von Hofmannsthal. In my dissertation I explore the dialogical structure of specific, aesthetically contextualised moments in effort to better articulate what Hofmannsthal sees to be the ethical content of the aesthetic.
For the 2015-2016 year, I was the Jackman Humanities Institute Amilcare Ianucci Graduate Fellow and worked on the theme "Things That Matter." To my delight, this resulted in an interdisciplinary collaboration project with Professor Heidi Bohaker (History, University of Toronto) in the form of a translation of Martin Pitzer's 1854 catalogue of (and comments on) objects made by indigenous peoples of the Great Lakes region.
I am also working together with Profs. Hans-Günther Schwarz and Norman Diffey on translating a selection of Hofmannsthal's fictional and nonfictional writings on visual art (The Letters of the Man Who Returned; the "Lanckoroński Address"; "Pictures. Van Eyck: Morituri – Resurrecturi"; "Painting in Vienna"; "Franz Stuck"; and "On Modern English Painting: A retrospective look at the International Exhibition in Vienna 1894"). We are hoping to have these published in the series German Texts in English Translation (Iudicium Verlag, München) within the year.
Publications
"Das Urgesetz der Schönheit: Überlegungen zu einer Kritik des Nützlichkeitsdenkens am Beispiel von Über Schädelnerven und Dantons Tod." Georg Büchner heute – Georg Büchner Today. Publications of the Institute of Germanic Studies, University of London (forthcoming)
Conference Papers & Presentations
"Hofmannsthal on Art and Capital", Canadian Association of University Teachers of German / L'Association des Professeurs d'Allemand des Universités Canadiennes 2015 Conference, Congress of the Humanities and Social Sciences. Congress theme: "Capital Ideas". University of Ottawa, 30 May – 2 June 2015
"Aesthetic and Ethical Encounters in Hofmannsthal's Augenblicke in Griechenland", delivered at: "Encounters", conference/workshop at University of Bristol, 8-10 September, 2014
"Nervenverbindung: Eine Diskussion über den Zusammenhang von Zweckmäßigkeit, Tod und Schönheit in Dantons Tod und Über Schädelnerven", delivered at: Büchner Heute/Büchner Today: An International Conference, Institute of Germanic & Romance Studies, University of London, 14-15 November 2013
"Ein nicht zu Nennendes. Strange Encounters in Hofmannsthal's Augenblicke in Griechenland", delivered at: Austrian Literature Postgraduate Conference, Ingeborg Bachmann Centre for Austrian Literature, Institute of Germanic & Romance Studies, University of London, 3-4 June 2013
"Das 'gewesene' Griechenland: Hofmannsthal in Greece", presentation given at departmental lecture circle. Lecture circle topic: "Heine, Hofmannsthal and the Greek Connection", University of Toronto, 1 March 2012
Select Awards/Distinctions
Amilcare Iannucci Graduate Fellowship in the Humanities, Jackman Humanities Institute, 2015-2016
Connaught International Scholarship for Doctoral Students, 2011-2016
Victoria College Junior Fellow, 2015-16
Ontario Graduate Scholarship Visa Award 2013-14; 2014-15; 2015-16
Avie Bennett Award, University of Toronto, 2011-12
Predoctoral Killam Scholarship, Dalhousie University, 2009-11
Tetley & Lupton Taught International Student Scholarship, University of Leeds, 2008-09
International Medieval Bibliography Scholarship, University of Leeds, 2008-09
Governor General's Medal: Highest Undergraduate GPA, St. Thomas University, 2008
Chancellor's International Scholarship, St. Thomas University, 2004-08