9 March 2017, 4 PM, Senior Common Room (Brennan Hall, East Entrance, 81 St Mary Street, View map)
MARC DEGENS has published four novels, numerous other books, and in the Frankfurter Allgemeine Zeitung. In 1996, he co-founded SuKuLTuR Publishing for contemporary literature and, in 2003, the team came up with a new idea: selling chapbooks in vending machines at Berlin light rail stations. 16-24 pages. 1 Euro. Now well over 100,000 sold and counting. Degens will share works including God's Busted Knee and talk about alternative forms of publishing and the Berlin literary scene. The reading is in English and German, with English translations projected and a discussion. Marc Degens holds an M.A. in German literature and sociology from the Ruhr-Universität Bochum. In 2014, he received the Hugo-Ball-Literaturförderpreis.
www.marc-degens.de (deutsch) | www.marcdegens.tumblr.com (English)
This event is co-sponsored by the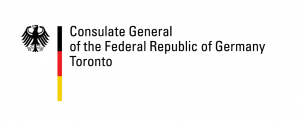 If you have any accommodation needs, please e-mail german@chass.utoronto.ca five business days prior to the event, and we will do our best to assist you.